Did you ever see those ads for learning how to draw? They show an exquisite and detailed drawing of a woman, and say you can learn to draw like that. The drawing captures not only the woman's beauty, but also her personality. Her style. Her essence.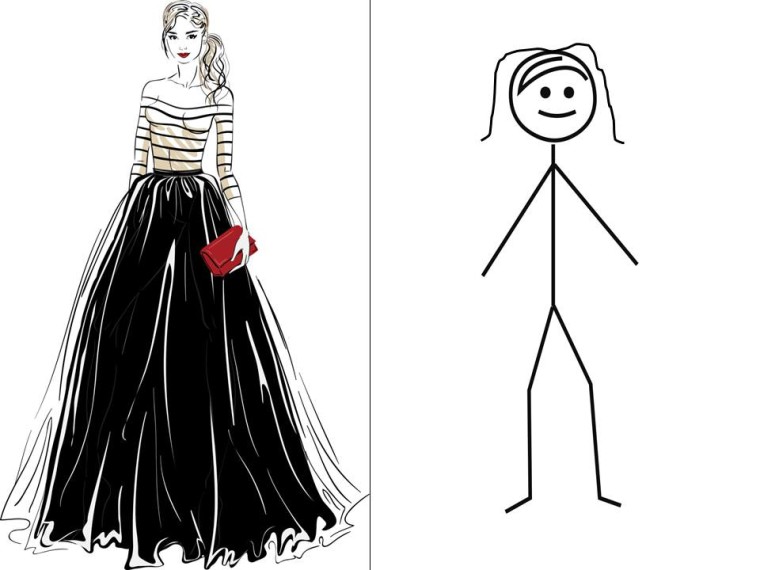 (c) Thinkstock and Dollar Photo
Meanwhile, your drawings look like stick figures.
What makes the difference between a stick figure and art? Well, there's some difference in the artist's skill in using tools like pencils, charcoal, ink, or paint. But the main difference is the artist's perspective. How they see.
It's funny how we can all see "what's there", and yet see it so differently. It's all in our perspective. We start by seeing more of who we are than who the subject is. It is only as we practice that we can put ourselves aside enough to see what has been there all along – their essence.
Artists are trained and practice seeing in new and different ways. Drawing an object from different angles. Experimenting with light, shadows, expression, and texture.  All meant to get them to see beyond themselves – to stop limiting their perspective.
We can do that with our own lives, too. When we're in the middle of something, it's like the stick figure. Black and white, plain and stark. No nuance. No shading. Front and center. When we take the time to look, we can put it in perspective. See the light and shadows. The texture. Our drawing goes from a stick figure to one of beauty.
This happened to me just this morning. I was writing my morning pages, and out came all the junk from a stress-filled week. Some of what I wrote: "…a punishing schedule, not sleeping well…pressure from an overflowing email box and delinquent expense reports…"
A stick-figure life, as I drew it.
As I continued to write, I saw the light and shadows. The texture. The beauty.
"…collaboration with wonderful and professional people. 70 degrees in Charlotte when I traveled there. The sun was out for most of the week. I spent time with my friend Ruth. Dinner with a co-worker who was in town. God's love surrounding me when I felt lonely."
It took a while to flesh out that stick figure, but it happened. If I can learn to draw, so can you. It's not about the drawing. It's about the seeing. Seeing with your eyes and an open and curious mind. Seeing with your heart.
What would you like to draw today? How would you like to see differently? Let's chat below.