Today was the 13th anniversary of my husband Jerry's death.  It's a funny thing – an anniversary like this.  On one hand, I don't want to live in the past.  13 years is a long time, and I've created a whole new life in that time.  On the other hand, I want to honor the love that still lives between us, even though he's not here.  I will love him always, and it's important to me to set aside time as a special remembrance.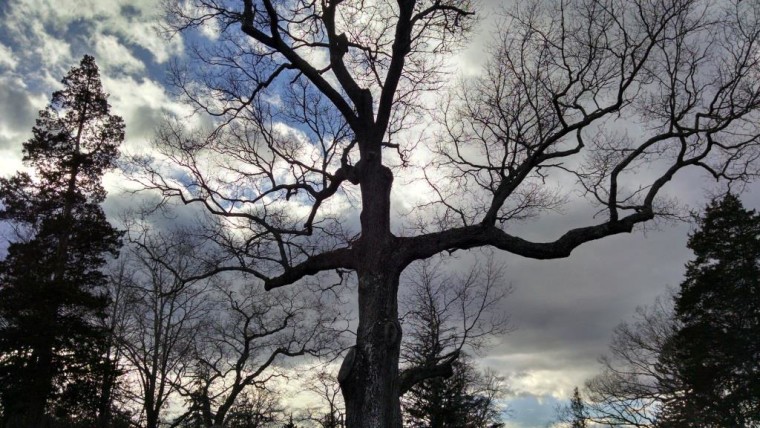 (c) Kathleen Thompson
So today I found myself in between two worlds, a place I've spent a lot of time of late as I transition out of my job.
Grateful for where I am now and loving the life I have, and missing Jerry too.  Missing his love for me, how he supported me and my decisions.  His hugs.  The nicknames and funny gift tags.  Rides on the motorcycle.  Crying at sappy movies.  Singing together.  Yeah – between two worlds.
I stopped at a small family farm to buy an arrangement of evergreens and drove to the cemetery.  I pulled the arrangement out of the car, inhaled the evergreen aroma and said "Ahhhhh!" just as Jerry would have done, and placed it next to the gravestone.
I stood and looked up at the tree nearby.  It's a huge old tree, and the leaves are gone for the winter.  The sky was filled with clouds, with a few breaks.  Jerry and I would have called it a somewhat spooky sky.  A lot of the clouds were dark, looking like they could hold wind, rain, and possibly snow.
But some of the clouds were lighter – almost white.  A few even had the sun peeking out from behind them.  The edges lit up by the sun.
I stood there and realized this: just like the sky, life is often a mixed bag, and sometimes all at the same time.  Dark and light clouds – some lit up by the sun.  Joy and sorrow.  Loving now, and missing the past.  Being content, and striving for more.
And in the midst of those clouds, hope shines like the sun.
Sometimes it's shining full out.  Sometimes partially obscured.  And sometimes completely hidden.  But always shining.  I got to see that today, as I saw the edges of the clouds lit up amid the dark and forbidding ones.
I saw on this anniversary of Jerry's death, that the sun was shining even on that first day.  The day when everything seemed dark.  The day when the light went out of his eyes, and mine too.  Hope was always there.  It was just hard to see.
Wherever you are in your life, look up at the sky.  Yes, there may be clouds.  Some of them may be white and fluffy, and others may be dark and foreboding.  No matter what you see, know that the sun is there.  Hope is there.  It might just be hard to see.
If you'd like to encourage others to have hope, or if you'd like some encouragement yourself, leave a comment.  And while you're at it, why not share this post with a friend, and then go outside together to look at the clouds?