Have you let in dirty feet this week?  What did they drag in with them?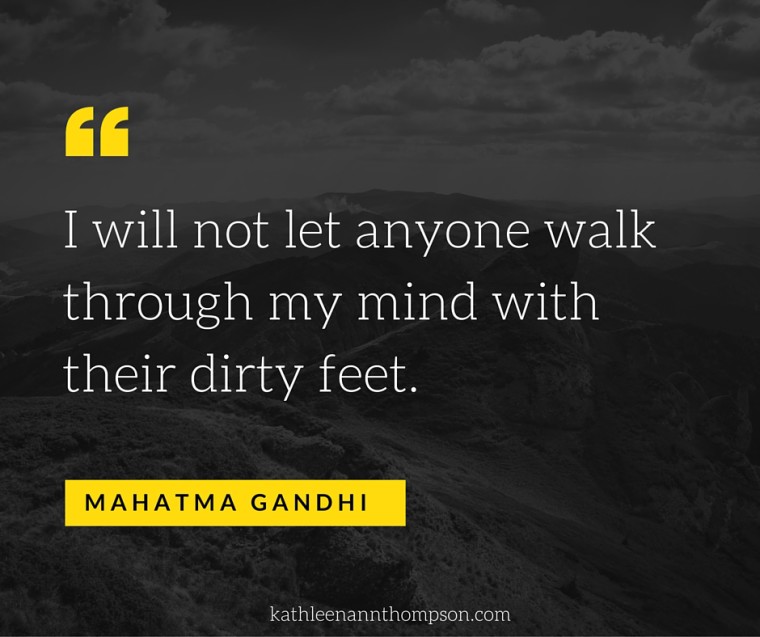 Worry?
Judgement?
Cynicism?
How far did they get?  Only to the kitchen where a quick sweep could take care of the dirt?  Or upstairs, ground into the carpet and staining it?
Have you left the door wide open and a host of dirty feet came in?
I thought about this as I swept up dirt that had come out of the grooves in my sneakers.  You see I had been outside picking up sticks in the yard that had fallen over the winter. (They seem to have multiplied like rabbits!)  The ground is soft in places, and my shoes picked up the dirt in the grooves.  I should have worn my gardening shoes, and I should have taken them off – and did neither.
I wiped my feet on the doormat – quite a bit in fact.  Yet despite my effort, a lot of dirt ended up in the kitchen and bathroom, and anywhere else I walked.
I didn't realize it right away, as I was focused on what I was doing.  It was when I went into the bathroom that I saw the clumps of dirt shaped like sneaker treads.  And then I saw they were in other places too.
The same was true in my mind this week.  I let dirty feet track through my mind in the form of negativity, discouragement, fear of failure.  And it was WAY more dirty than the dirt on the floor.  So what did I do?
Saw the door was open and closed it.
Got out the broom and started sweeping.
In some cases, I needed more power.  I had to vacuum it up.
I brought that dirt to the surface.  Shone the light on it.  Called it what it is – dirt.  Then I purposely chose to fill my mind with what is good, pure, excellent, praiseworthy, and true.  Clean.  And beautiful.
Your mind can't focus on dirt and beauty at the same time.  You can't be both stressed and grateful at the same time, or negative and positive.  And you can choose which it will be.
What should you do right now?
Ask yourself – "What am I thinking right this minute?"
Am I letting dirty feet track through my mind?
If not – great!  Keep it up.
If so, how can I re-frame my thinking.  Not later, but now?
Repeat throughout the day.  Whenever you think of it.  And while you're at it, put on a new door.  One that opens to what will transform your mind for the good, and slams shut when dirty feet come to call.
What dirt have you let into your mind this week?  What would you like to focus on instead?  Add to the conversation by leaving a comment below.