Fear gripped us as we started down the mountain.  We were in Arizona on a motorcycle tour.  The others were more experienced riders, and used to the terrain out west.  We were used to riding rolling hills with trees and shrubs on the side of the road.  Here were sharp switchbacks and a steep drop-off to the right.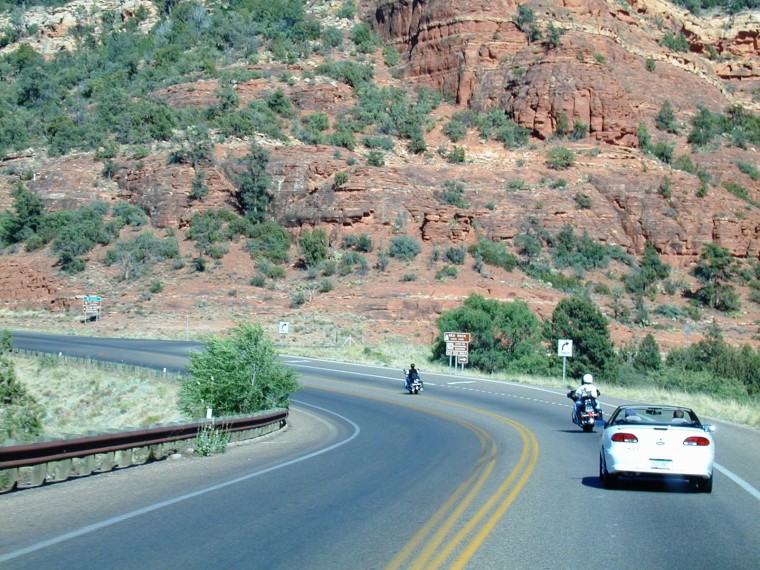 NOTE: This is the straight part of the road. No one took pictures on the switchbacks.
One false move and we could go hurtling off the side into the abyss below. 
I could feel the tension in Jerry's body.  I leaned close so I could hear him, sensing he wanted to say something.  "I don't know if I can do this.  And we're way behind everyone else."
"Don't pay attention to anyone else," I responded.  "Ride your own ride.  And don't look at the canyon either.  Focus on the road and do what you know how to do.  You know how to take curves.  You know how to brake and turn.  You can do this.  Just breathe, lean into it, and ride at your own pace."
With a somewhat calmer mind and white knuckles gripping the handlebars, Jerry kept going.  I held onto him loosely, knowing that if I held tightly it would add to the tension.  I could scarcely breathe, yet forced myself to breathe as normally as possible to try and bring calm to the situation.
One turn…and another.  The brakes holding up.  One step closer to our destination – Sedona.  More switchbacks.  No guardrails.  Thinking – "Focus on your ride, Jerry.  Do what you know how to do.  Don't look at the drop-off."
And suddenly around the next bend, the road got a little straighter.  And we saw the most unbelievable scenic vista in front of us – the Sedona Valley.  Bright red rocks dotted with green oases.  It was breathtaking.
We found a turn-out where we could stop and really take in the view.  As we did, we realized why the tour leader had chosen this road.  What we would have missed if we hadn't taken this treacherous ride!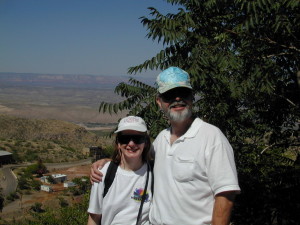 Two weeks ago I had some of those same feelings – like I was white-knuckling it through my life.  I didn't know if I could keep going.  Constant travel with different time zones and not-so-healthy food, a hectic schedule, conflicting priorities, and budget challenges.  Trying to keep up with my blog and podcast with a mind that was exhausted.  Feeling like a failure because I couldn't solve every problem or find creative flow.  Feeling like no one was even listening.
What did I do, after first hyperventilating and crying out of frustration?  I talked to some of my close confidantes.  And they told me something similar to what I had told Jerry.  "Breathe, Kathleen.  Slow down.  You've got this. "  Effectively, "Ride your own ride.  You know how to do this.  Don't look at the drop-off.  Just focus on the road and do what you know how to do."
So I did.  I ended work earlier and got more sleep.  I went for walks.  I went to a concert with a friend.  I reminded myself why I was doing what I was doing.  I relaxed into the curves.
And suddenly the road got straighter.  We found a way forward at work.  Not perfect, but manageable.  A Facebook friend invited me to write an article for her internet magazine.  And one of my favorite authors replied to my email with a lovely note of encouragement.  A scenic vista.  In the middle of the mountain.  Giving me the courage and conviction to keep going.
Maybe you haven't been on a motorcycle hurdling down an Arizona mountain.  But maybe you've been feeling like "I don't know if I can do this."  So don't look around at anyone else.  Ride your own ride.  Focus on the road and do what you know how to do.  In due time you will get to the scenic vista.  Maybe a little shaken.  Maybe with red welts from gripping the handlebars.  But there.  It will be beautiful.  And worth it.
Do you know someone who is struggling with "I don't know if I can do it?"  Share this post with them, and encourage them today.  And if you're trying to keep going yourself, share below.  We'd love to help you make it down your mountain with grit and confidence.