I'm supposed to be in Philadelphia at a conference today.  I was supposed to be there on Sunday and Monday too.  But I'm not.  I'm at home.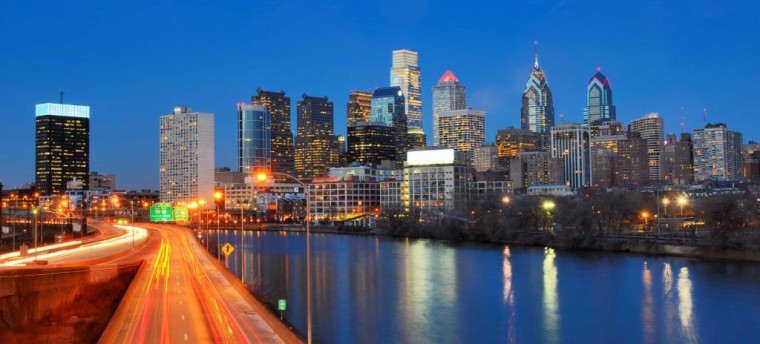 Philadelphia skyline (c) AdobeStock Photo
And I'm right where I should be.
Even as I write this, part of me cries…NO!  The part that believes, "Winners never quit and quitters never win."  The part of me that has gutted through so much stuff in my life.  Who's lived out, "The show must go on."
I remember waking on a Saturday morning after Friday night's opening of "HMS Pinafore", and having no voice.  At all.  Well, I had a squeak.  But that wouldn't give me high C's or allow me to speak and sing for two more performances that weekend.
So I called my voice teacher.  He had it too.  We made emergency appointments with an Ear, Nose, and Throat doctor, who gave us steroids to shrink the swelling in our vocal cords.
The medicine helped us sing.  And beautifully too.  So the show went on.  After all, I didn't have an understudy.
But this week the show went on without me.  It's hard, but I know it was right.  Even though that voice in my head called me a quitter.  Or afraid.  Here's how it went.
I drove Saturday morning to Rhode Island to celebrate my sister's birthday.  We had a wonderful day of visiting, high tea at the Vanderbilt Grace, gifts, and a walk on the beach.  The weather was incredibly beautiful.
At 5:30 pm, I got in my car to drive to Philadelphia for the conference.  It's about 5 hours through 3 major cities in CT, New York City, and the state of New Jersey.  In other words, lots of traffic.
I've been coughing for a month now, and have been to the doctor three times for allergy treatments.  Each time I get a little better, and then relapse.  So, I haven't been feeling myself at all.  Tired, eyes and ears burning, coughing and sniffing.  Run down.  And every day thinking it will go away.
I was pretty good in Rhode Island. As I started my drive to Philadelphia, I was enjoying the ride, and listening to podcasts.  One was Ray Edwards and Cliff Ravenscraft talking together about a book I discussed in Podcast Episode 034 – The Big Leap.
Ray was saying that something great had just happened on his trip to Nashville, and he was rejoicing.  Then, as he was driving to visit Cliff in Kentucky, he began to get a migraine.  It was so bad he had to stop.  Then he asked himself, "Could this headache be an upper limit problem?  Can I be trying to get sick because I feel uncomfortable with this level of success?" Within 10 minutes, his migraine was gone.
Anyway, as I drove, I began to feel worse.  I was fine when I got to the point where I would normally gat off I-95 to head north for home.  But right around the time when I got to Old Saybrook, and could have gone north from there, I began to feel a pull to do just that.  Get off.  Go home.
I asked myself, "Could this be an upper limit problem? Can it be that this conference is going to launch me to the next phase of my life, and it's important for me to be there, and I'm afraid of how uncomfortable that might make me?"
I wasn't sure, so I kept going.
I felt the same pull when I reached New Haven, another point when I could turn off and be home in an hour.  I asked myself the same question then, and wasn't sure of the answer.  And that pre-recorded message of "Winners never quit and quitters never win" was subconsciously making me choose to continue.
I felt worse and worse the longer I drove.  I was tired.  Aching.  But now I was getting closer to Philadelphia.  And Philadephia is the city where Rocky trained in the first movie.  Talk about not quitting!  So I kept going.  After all, I'm a winner.  I don't quit.  The show must go on.
Somewhere in New York, maybe it was when I was crossing the George Washington Bridge, I decided, "If this is an upper limit problem, I'll feel better in the morning.  If I'm still sick, I'm going home.  I need to take care of myself."
By the time I got there, my entire head felt like it could explode.  I wasn't coughing much, but I felt congestion just stuck in my head.  It was on fire.  My neck was too. I reminded myself of my promise, and spent time praying for clear guidance.
Well I got it.  I hardly slept at all.  I felt so lousy.  I got up the next morning, felt equally terrible, walked to the conference, and told them I was sick and couldn't attend.  I told them I was sorry to give them such short notice, but that I really had tried to do this and simply couldn't.  I then went to the hotel front desk and told them the same thing.
They were all so gracious about it.  I was grateful for their kindness.  And then I got in my car and started driving home.
The drive wasn't fun.  There was a lot of traffic, especially when you consider it was a Sunday.  I had to completely stop on the Hutchinson River and Merritt Parkways more than once.  And I was so tired I stopped at a rest stop in Stratford to close my eyes for about 30 minutes.
With all that and a quick stop at Whole Foods to pick up some natural medicine, it took me 6 hours to get home.  6 somewhat tortuous hours.  First because I felt like my head was going to explode at any minute, and also because I was still fighting with myself over the whole quitting issue.
Part of me felt like I had quit because I was afraid, and the other part of me felt like I had just done something courageous.  To admit that now wasn't the right time.  Admit I was actually sick, and the show wasn't going to go on for me.  At least this year.
When I woke this morning, I was still torn.  Until I got out of bed and felt the weight of how bad I actually felt.  Finally allowed myself to stop and really feel it.  I spent the entire morning on the couch just resting, hydrating, and trying to clear the congestion via steam.  So I know I did the right thing.  I know it was my body trying to pull me toward home, and not fear.
But I didn't know then.  I wasn't sure.  I guess I had to find out by driving all the way to Philadelphia.
I could have stopped when I got to Old Saybrook and prayed.  Done self-muscle testing.  Or just asked my body.  But I didn't.
I could have done the same thing when I got to New Haven.  But I didn't.  I kept going because I felt like the show must go on.
Now sometimes that's true.  Sometimes the show does have to go on.  When you don't have an understudy.  When it's crucial for you to stand.  Persist through difficulty.  Sometimes winners don't quit.
And sometimes they do.  I call it strategic quitting.  Like when you're clearly sick and what you need most is rest.  Or when the thing used to be right and isn't any more – and the evidence is overwhelming.  Or when you don't get to use your primary skills and talents.
Yes, the most successful people practice strategic quitting.  They quit what others can do better than they.  They quit trying to do and have it all, and instead focus on the one thing they can uniquely do.  They quit trying to be everything to everyone.
I thought I was going to the conference to learn something that would help me in the next phase of life.  Instead I learned something powerful by NOT going to the conference.  I learned that I sometimes have a hard time hearing my body unless it yells at the top of its lungs.  I learned that it's at least as important to listen to my body as it is my mind – because my mind tells me to do things that aren't always in my best interest.  And I learned that strategic quitters win.
What about you?  Is there something you want to strategically quit so you can win?  Share in the comments.