What if Jesus hadn't been born in a stable? What if there was room in the inn?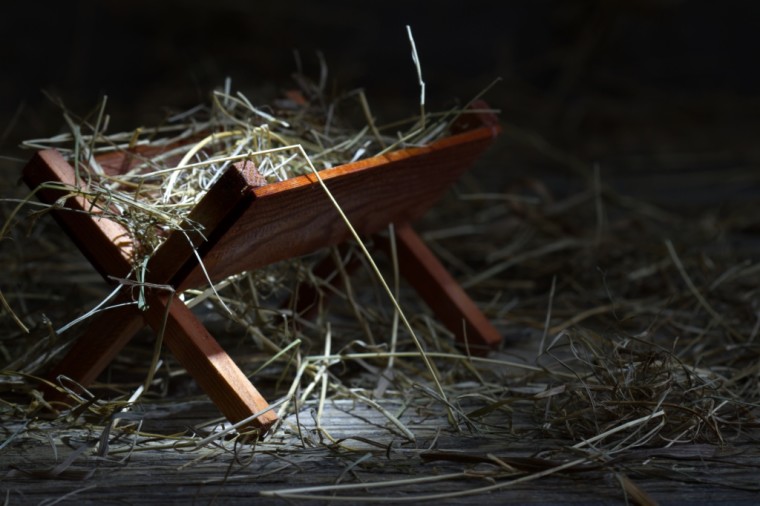 (c) Thinkstock
We can learn something deep and powerful about our lives when we look at a very human aspect of this timeless story.
In those days Caesar Augusts issued a decree that a census should be taken of the entire Roman world…And everyone went to their own town to register. So Joseph also went up from the town of Nazareth in Galilee to Judea, to Bethlehem the town of David, because he belonged to the house and line of David. He went there to register with Mary, who was pledged to be married to him and was expecting a child. While they were there, the time came for the baby to be born, and she gave birth to her firstborn, a son. She wrapped him in cloths and placed him in a manger, because there was no guest room available for them.  –Luke 2
Let's put ourselves in Mary and Joseph's sandals.
If I were Mary, I'd be fretting while Joseph pounded on doors looking for a place for them to stay. Anywhere. I'd be worried that my child might not survive among the animals. With the manure and not even the most basic comforts. The trip from Nazareth was hard enough. Long. Uncomfortable. The baby pressing. Yes, Mary is exhausted and maybe afraid.
What about Joseph? He's trying to protect Mary, but feels like he's failing. Why did the census have to come now? And now he can't find a place to stay. Sure, Mary doesn't blame him. She knows it isn't his fault. He can't help that everyone is in Bethlehem at the same time. He sees the disappointment in her eyes though, the slumped shoulders, and the quiver in her jaw as she tries not to cry. And every part of him wants to cry out in frustration because he can't make it better.
Yet the midst of this difficult trip, there are gifts. Their baby's birth. The donkey Mary was able to ride. The kindly innkeeper who let them stay in the stable. They have shelter. Even if the shelter comes with a side order of manure.
Cut to the fields outside of Bethlehem. Some shepherds are out there in the dark, protecting their sheep. These aren't the kind of men you'd bring home to your parents. They spend most of their time with animals. They aren't well-educated or well-mannered. They're outside the mainstream of society.
The shepherds are alone with the sheep on this dark night. They've brought the sheep all together to keep them safe, as there's nothing to light the sky except the moon.
Suddenly the sky lights up.
An angel of the Lord appeared to them, and the glory of the Lord shone around them, and they were terrified. But the angel said to them, "Do not be afraid. I bring you good news that will cause great joy for all the people. Today in the town of David a Savior has been born to you; he is the Messiah, the Lord. This will be a sign to you: You will find a baby wrapped in cloths and lying in a manger."

Suddenly a great company of the heavenly host appeared with the angel, praising God and saying, "Glory to God in the highest heaven, and on earth peace to those on whom his favor rests."

When the angels had left them and gone into heaven, the shepherds said to one another, "Let's go to Bethlehem and see this thing that has happened, which the Lord has told us about." So they hurried off and found Mary and Joseph, and the baby, who was lying in the manger.
Let's pause and let that sink in. The shepherds went to the stable to see Jesus.
Whether you believe that Jesus is the Savior or not, feel the import of this statement. What if Jesus wasn't born in that stable? What if there had been room in the inn? Do you think the unmannered, ill-kept shepherds would have been welcomed in the center of town, let alone the inn? Might they have hurried there, only to be turned away, the door slammed in their face?
I can just imagine the innkeeper saying, "There's no more room. I stretched to let Joseph's family in. We're packed." Holding his nose as he shut the door. And shut them out.
No, I don't think the shepherds would have seen Jesus that night.
And what about Mary and Joseph? They would have given birth surrounded by strangers. They would have missed the shepherds bursting in with excitement to see and worship Jesus.  They would have missed the affirmation that what the angel had told them was true.
They would have missed this special moment with the shepherds.
Do you ever find yourself out in a stable? Frustrated by your circumstances? Unnoticed by anyone except a stray dog who wanders in among the sheep?
Just as with Mary and Joseph, sometimes what looks like the worst situation turns out to be a gift.
We have an encounter with someone we wouldn't otherwise have met.
We grow in ways we couldn't have imagined.
We are presented with a unique opportunity.
When you find yourself in a tough spot, ask "What gift could be hidden in this situation?" The stable made it possible for Jesus' family and the shepherds to meet. What could this situation make possible for you?
This Christmas, when you pass by a manger scene, think about the stable. The manger. The animals. The manure. Think about the gifts they made possible. Perhaps you can see the stables in your life in a different light.
Do you know someone who is in a tough spot? Feeling like an outcast? Stuck in a smelly stable? Send them a copy of this post or share using one of the social media buttons.  As always, your thoughts and stories are welcome below.