Last week I took three trips combined into one. Connecticut to Florida to Georgia to Colorado and back to Connecticut. A combination of business and vacation. Each leg was only a few days, so I didn't really have time to get used to the place I was in before it was time to move again.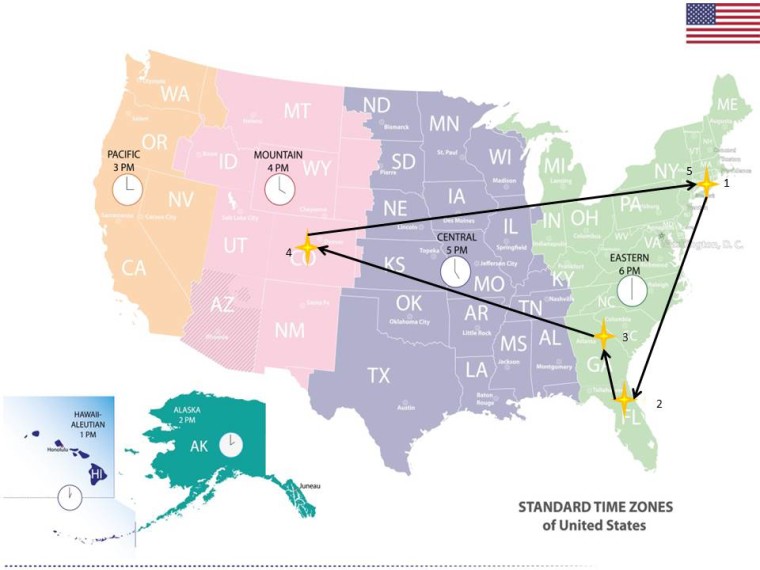 And I ended up in different time zones.
Time Changes Throw Me Off Kilter
By the time I got home, I was so disoriented. I knew I was home but it didn't feel like it. My body was about 2 locations behind, trying to catch up. It was strange. It took me a few days to reorient myself to my surroundings. My mind and body clock weren't really present.
We Put Ourselves in Different "Time Zones" By How We Live
How often do we find ourselves living as if we are in a different time zone? We ruminate on the past or race ahead to the future, and aren't living in our own time zone. When we do this, it's kind of like jet lag. Something doesn't feel quite right. We feel just a bit off. Disconnected. Perhaps we feel worried, anxious, or discouraged.
Present Focus Brings Clarity
When we bring ourselves fully into the present, the brain fog disappears. We see and experience what is right in front of us. All around us.
In traveling there are all kinds of tricks to adjust to the new time zone. Staying hydrated. Taking melatonin. Eating and sleeping on the new schedule before we leave. And more.  You can't completely prevent jet lag, but you can minimize the symptoms.
So what can we do in our everyday lives to live right where we are? Not sleepwalk through life in a half-awake state, but really live?
Focus on the EVERYday Beauty
We can focus on the beauty we see around us. Immerse ourselves in our surroundings. Live. Breathe. Drink it in. When I got home and reminded myself of where I was – grounded myself – I felt more connected with the Eastern Time Zone and my Connecticut home. When we focus on what we see and experience around us, we connect more deeply too.
It's so easy to take a flight to the past or future. Especially if the present doesn't seem as pleasant. Our subconscious mind looks for an escape. It takes effort to connect with each moment. Find and express the beauty there.
It's Worth It
But when we do it's so worth it. Life is better with a clear head and clear vision.
So choose to live right where you are. Even if it isn't somewhere you would choose. To live in the present, find the beauty in each moment of your one precious life.
Be here. Now.
A Special Invitation
Next week we are kicking off a 30 Day Beauty in EVERYday Challenge. Watch for a special email from me inviting you to participate in this challenge. Our challenge will be to look for beauty in the EVERYday and share our discoveries with others. I'm excited to see how this challenge will transform us in ways we can't even imagine.
If you'd like a sneak peak, you can Click Here  to read more about it. You can even sign up and start right away. And please invite your friends to join you on this adventure.  Just click one of the Social Media or the email button.