What were the women feeling as they walked away from Jesus' grave?  They had just watched him be tried, tortured, die a horrible death, and be hurriedly buried before the Passover.  They stayed with him through it all.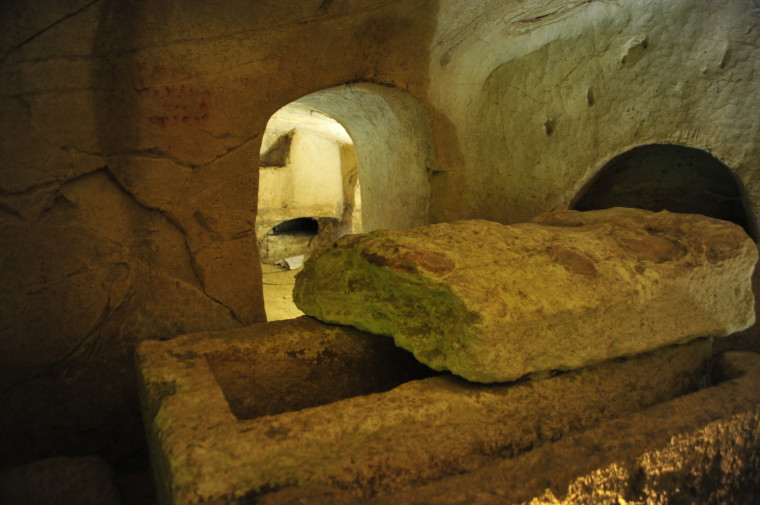 (c) Dollar Photo
And now they had to turn away from the tomb and walk away.
The women who followed Jesus had followed him throughout his ministry.  Through good times and bad.  They listened, learned, were loved and healed.  No one had ever loved them like Jesus.  And they had never loved anyone the way they loved Jesus.  They financially supported him.  They probably fed him, mended his clothes, cut his hair.  They were part of the group.  Treated with dignity.
They loved Jesus so much that they followed him all the way to the cross.  Still loving, still encouraging, still supporting him in any way they could.  And when he was dead they helped to bury him.  When they could do no more, they walked away.
How did the women feel as they left the grave?  In shock.  Afraid.  Worried.  Like they were deserting him.
How do I know this?  On December 24, 2004, I walked away from my husband's newly-dug grave.  The memory of that day is emblazoned in my mind.  I was in shock.  Afraid. Worried.  I felt like I was deserting him.
What do you do when you walk away?  When you feel like you're leaving the person all alone, and yet you know they're not really there?  When your mind is in this in-between state of knowing and yet not understanding what has happened?
You eat food like a robot, not tasting it.  You listen to others, and don't hear what they say.  You try to rest, but there is no rest.  You keep thinking there is something you need to do to help, and there isn't.  You start to share something, and then realize there's no one there to hear it.
When you walk away, you don't just walk away from the grave.  You walk away from the life you knew.  Though every fiber of your being cries out in protest, you keep walking because you can't live in the cemetery.  You take one step and then another step.  Away from the grave of your old life and toward a new one.
Death attacked without asking your permission, stealing your life.  Your new life is more polite.  It lets you choose.
Is there a tomb in your life that you've had to walk away from?  It doesn't have to be the death of a loved one.  It could be a relationship, a dream, a job you lost, or a disease that left you unable to do the things you used to do.  After the shock wears off, take a step.  And another.  You didn't choose the circumstances, but you can choose your response.  You can choose how to live this post-grave life.
Remember, Jesus didn't stay dead.  A few days later, he rose.  Resurrected.  Glorified.  Triumphant.  The women's lives were transformed again as they experienced resurrection joy.
When we choose to live our post-grave life, we can experience joy that comes from rebirth.  From grief comes strength.  Compassion.  Gratitude.  Hope.
We must accept finite disappointment, but never lose infinite hope.  –Martin Luther King
Who do you know who needs to hear this message today?  You can share by clicking any of the social media or the e-mail button.  And if you've walked away from a tomb in your life, please share your story below.