Have you ever wondered how to know what you're meant to do with your life?  On today's special podcast, Jeff Goins, author of The Art of Work, explains how to find your true calling at the intersection of your passion and the world's need.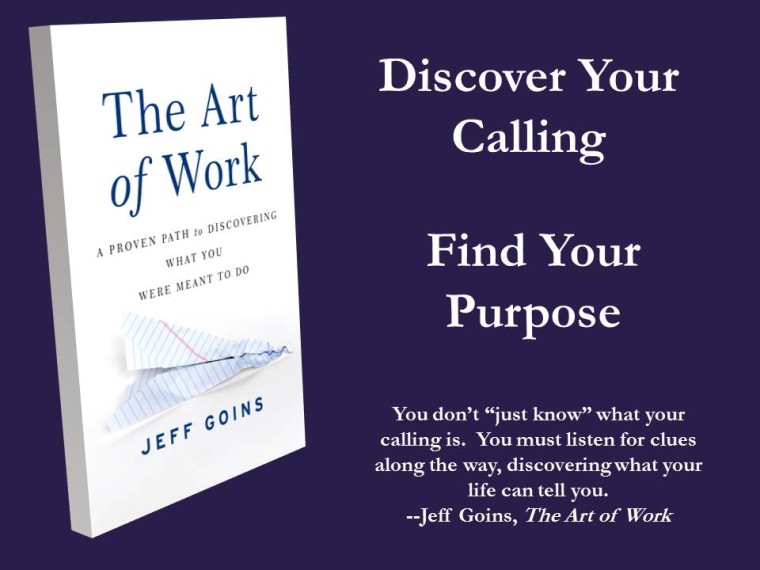 Play Episode
Podcast: Play in new window | Download
| Subscribe in iTunes | Subscribe in Stitcher | Subscribe via RSS
On Today's Episode
Rhythm of Life – Processing Time
Random Riffs – What Do Diving Into the Snow and the Brooklyn Bridge Have In Common?
Feature Segment – A Special Interview with Jeff Goins, author of The Art of Work
Rhythm of Life – Processing Time
You may have heard of Processing Time when it comes to technology.  That message on the screen estimating the time it will take for something to download or process.  We need Processing Time in our emotional lives too.  I rediscovered that in a big way this week.
How about you?  Do you give yourself processing time?  And do you use it to process your emotions so they don't rule you?
Listen as I share tools I've learned to deal with it.  And share your tools with the group.
Random Riffs – What Do Diving Into the Snow and the Brooklyn Bridge Have to Do With Each Other?
The city of Boston has had over 8 feet of snow this winter, breaking historical records.  Public transportation has become a nightmare, as trains aren't running and buses can't handle the overflow.  Traffic is snarled, and people are just frustrated.
In defiance of winter, and to help alleviate their stress, Bostonians have taken to diving out of windows into the large snowbanks, filming themselves and posting it on social media.  Some of these dives are mere jumps, either out the window, or off of a deck or roof.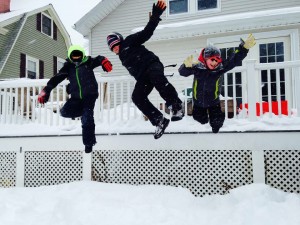 They've even created a hashtag for the "event": #BostonBlizzardChallenge.  Despite warnings to stop from the Mayor of Boston, the diving continues.  Why?  Groupthink.  Being influenced by those around us.
We've all been asked the question, especially as kids, "If everyone else was jumping off the Brooklyn Bridge, would you do it too?"
Have you had a BostonBlizzardChallenge or Brooklyn Bridge of your own?
What lessons did you learn from the experience that you can continue to apply today?
Listen for important tips to help you avoid GroupThink.  Don't take the #BostonBlizzardChallenge.  Take the #BlowYourMindChallenge.  Tweet it or share on Facebook with all your friends, and with this group.  Start a new trend!
Feature Segment – Jeff Goins Interview
Jeff Goins is a full-time writer who lives just outside of Nashville, Tennessee.  He has authored three other books:  The In-Between, Wrecked, and You Are a Writer.  He spent a year after college traveling around the United States with a band, and they hit it big in Taiwan.  Jeff is now a professional blogger and public speaker.  His website has been visited by more than four million people from all over the world.   Jeff also has a podcast called The Portfolio Life and hosts a popular online course, TribeWriters.
Jeff's latest book is called The Art of Work.  This inspirational and practical book walks us through the process of finding our calling in life.  Jeff shares his own story of how he found his calling, and also includes stories of people just like us who have married their passion with the needs of the world to live a life that matters.  Catch the trailer.
The Art of Work will be published on March 24, 2015.  For a limited time, you can order the book for free, and only pay for shipping and handling.  When you take advantage of this offer, you will also receive bonuses worth $250.
A downloadable PDF of the book so you can start reading today
A video mini-course to help you find your calling
A downloadable workbook with practical action steps to follow
An exclusive community of people pursuing their life's purpose
Access to the author for community Q&A
An on-line course is also available with the book.  For more information about this limited time offer,  click here
NOTE:  If you purchase the on-line course, I will get a commission from your purchase.  I only recommend materials that I would use myself.
Listen to hear the story behind the book as Jeff talks about The Art of Work, and his own journey to find his calling.  You will be challenged, encouraged, and enlightened.
Where are you in your journey to find your calling?  Please share with the community by clicking here.