According to Elizabeth Gilbert in her book Big Magic, we are all carrying buried treasure within us.  It's our art.  In this episode we explore uncovering that art, bringing it on an adventure, and leaving fear in the back seat.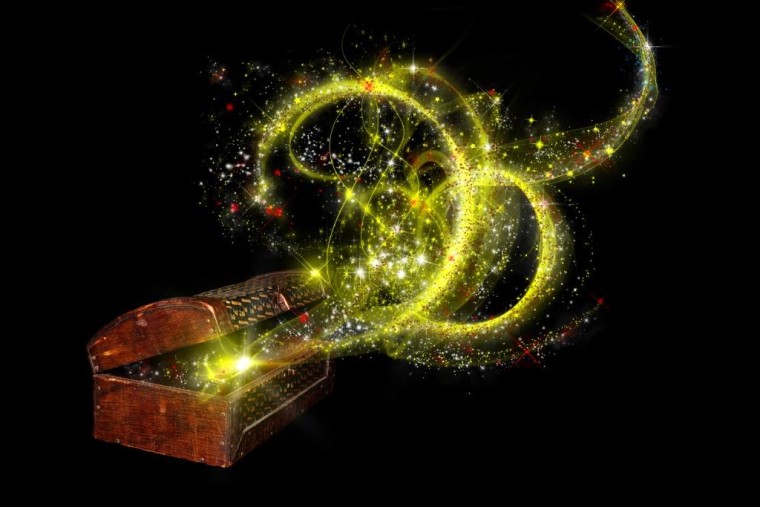 (c) AdobeStock Photo
Play Episode
Podcast: Play in new window | Download
| Subscribe in iTunes | Subscribe in Stitcher | Subscribe via RSS
On This Episode
Rhythm of Life – A Different Measuring Stick
Random Riffs – Diamonds, and Scallops, and You…Oh My!
Feature Segment – Art, Magic, and the Treasures of the Universe
Rhythm of Life – A Different Measuring Stick
Have you ever taken the StrengthsFinder assessment?  One of my strengths is Achiever.   I don't like it if I can't tell that I'm accomplishing something.
So imagine my horror when I can't think of one aspect of my life where I'm accomplishing something I can measure.  Or even check off a list.  For me, checking stuff off a To-Do list doesn't cut it.  That isn't true achievement.
When I shared this with a friend, she said, "I think you're using the wrong measuring stick."
What about you?  What are you measuring?  Does your measuring stick feel like a battering ram?  Maybe it's time to trade it in for a new one.  If it will help, I'm happy to share mine.  Send an email to Kathleen@kathleenannthompson.com and let's chat.
Random Riffs – Diamonds, and Scallops, and You…Oh My!
Do you ever think about how stuff got discovered?  One day I was thinking about this, and wondered – how did we decide that diamonds and other gem stones were valuable?  What if common pebbles were considered more valuable?  Or shells?  I'm sure you can picture the scene.
I have a huge jar in my house filled with scallop shells.  Most of them came from Cape Cod or Newport, RI.  And I certainly don't have that many diamonds.  And somehow in our culture we've decided that diamonds are worth a lot more than scallop shells.
What else have we made those judgements about?   And who's to say that one's intrinsic value is any greater than another's?  Other than their perceived economic value – are diamonds really more valuable than scallop shells?  And what about me – or you?
Feature Segment – Art, Magic, and the Treasures of the Universe
"'Do you have the courage to bring forth the treasures that are hidden within you?'  We are all walking repositories of buried treasure.  The universe buries strange jewels within us all, and then stands back to see if we can find them.  The hunt to uncover those jewels – that's creative living.  The often surprising results of that hunt – that's what I call Big Magic."
That's part of the opening to Elizabeth Gilbert's book – aptly called Big Magic – Creative Living Beyond Fear.
In this book, Ms. Gilbert explores living a life driven more strongly by curiosity than fear.  She helps us embrace the wonder and joy of art and our everyday lives.
Is there something you gave up because you weren't going to be a champion?  Or because you don't have time anymore?  Or because you weren't getting better?  Or no one paid attention?  There are all kinds of reasons why we quit.
What is it for you?  It might not be art.  It could be a sport, a game, some other creative activity that isn't necessarily art.  You know what it is.  And it's stifling the magic within you.  Hiding the precious jewels.  Contributing to the heavy feeling in your heart.
And this is what it's all about: allowing our natural curiosity and passion to overcome the dual voices of fear and insecurity.  Because in the end, our fear is boring.  According to Ms. Gilbert, fear has only one word – STOP.   Every time you want to do something, it says STOP!.
Liz puts it another way too.  She says that fear and creativity will always co-exist.  She thinks of it like a road trip.  She invites fear everywhere she goes.  She tries to relax, which makes fear relax too.  And she talks to it.
The act of being daring and exercising your curiosity will lead to all kinds of interesting experiences.  Not to mention growth.  I know this is true.  As Liz says, "Your life is short and rare and amazing and miraculous, and you want to do really interesting things and make really interesting things while you're still here.  I know that's what you want for yourself, because that's what I want for myself, too.  It's what we all want.  And you have treasures hidden within you – extraordinary treasures – and so do I…and we simply do not have time anymore to think so small."
An article written by Marjorie Lamberti speaks to the importance of art.  She describes the musicians and other artists in a Nazi Concentration Camp outside of Prague during WW2.
So again I ask you, what is your art?  Only this time I'm answering the question for you.  Your art isn't just what you make.  It's YOU.  The most human and unique expression of you.  Whoever you are, whatever you do.  When you do it with your whole heart, with your whole being.  It is art.  The art of you.
Why don't you try an experiment?  Start your day saying out loud, "I am a work of art!"  And then think of it throughout the day and repeat it again.  As many times as you can.
Let's agree together to strap fear into the sidecar and turn down the intercom's volume.  Then ride off into the sunrise where artistic adventures await every morning.  Where Big Magic happens.  And wake up and say, "I'm a magnificent work of art!"  In fact, because we often don't feel as though we have permission, I'm giving you a permission slip right now.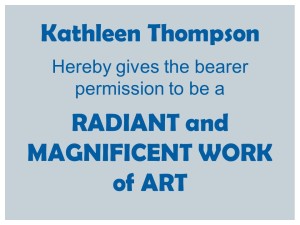 Take it wherever you go.  And when anyone asks if you have permission, you can say YES!
Leave a comment and let me know what happens.  What you notice.  Discover.  Try.  And don't forget your camera.