Sometimes life shoots a hole in Option A.  When that happens, we have to figure out how to live with Option B.  On today's episode, we'll explore what Sheryl Sandberg, Adam Grant, Glennon Doyle Melton, and Ann Voskamp have to say about dealing with the brokenness in our lives and thriving in Option B.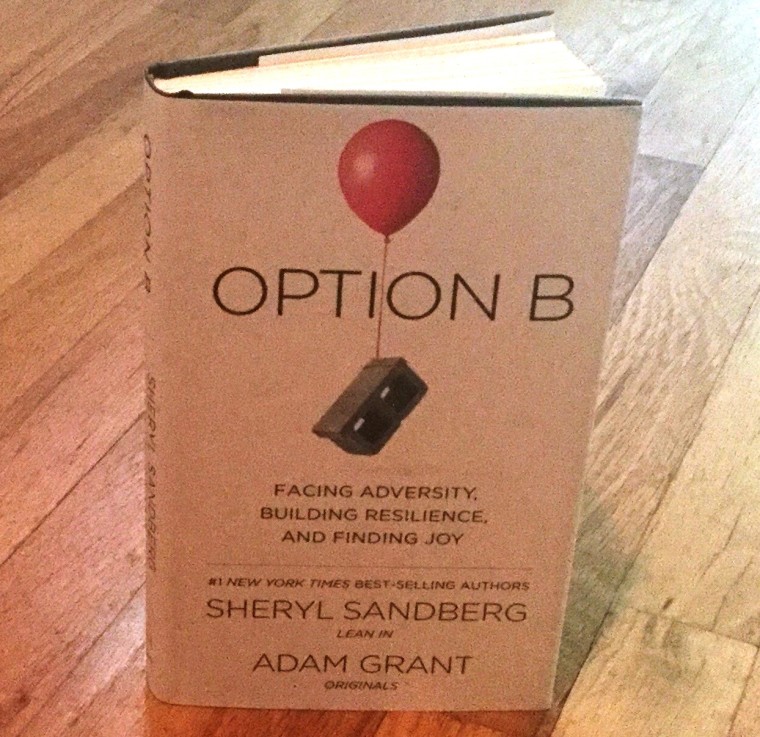 Play Episode
Podcast: Play in new window | Download
| Subscribe in iTunes | Subscribe in Stitcher | Subscribe via RSS
On This Episode
Rhythm of Life – Adventure of a Not-So-DIYer, Part 2
Random Riffs – You Didn't Taste What You Thought You Tasted
Feature Segment – How to Thrive in Option B
Rhythm of Life – Adventures of a Not-So-DIYer, part 2
You heard in Episode 062 about my attempt to fix my laptop.  7 hours and no fix.  It was a sad saga.
Guess what?!? It happened again.  Not with the laptop.  This time it was the glue gun in the bathroom.  It was stuck in the plug.  Nothing I tried dislodged it.  Listen to hear what I finally did, and who helped me.
I really learned something from this experience.
There's always something to learn.
Life is never dull.
God often uses other people to answer our prayers.
Random Riffs – You Didn't Taste What You Thought You Tasted
An article in January Scientific American Mind showed us that you can't always trust your own taste.
Two scientists set up a taste test in a supermarket.  Shoppers were presented with two samples of either jam or tea and asked them to pick a favorite.  You're not going to believe what happened!
The author believes this comes from power of suggestion.  Hmmmmm……. What else might we believe is true just because someone tells us so?
Feature Segment – How to Thrive in Option B
Sheryl Sandberg was on vacation with her husband Dave.  He went to the gym for a workout on the treadmill.  When he didn't show up later, they went looking for him.  They found him next to the treadmill.  He had died of cardiac arrest.  In a moment, Sheryl's life was forever changed.
Glennon Doyle Melton had successfully fought bulimia and alcoholism.  And then she found out her husband had been cheating on her for most of their marriage.  It changed her life in an instant.
Ann Voskamp struggled with cutting from the trauma of seeing her sister killed by a delivery truck.  Years later, she wrote of her journey toward wholeness in the book 1,000 Gifts.
Three women.  Three stories.  Different and yet the same.  Tragedy visited them and they each learned to thrive in spite of it.  Or, as they might say, because of it.
Post-traumatic growth is what positive psychologists call it.  The growth that comes with battle scars.
In her book called Option B, Sheryl says her rabbi told her to "embrace the suck".  Head straight at it.  Don't try and escape.
Glennon calls our attempts to escape as "the big easy button".  Her book called Love Warrior details her attempts to embrace the pain as she lived without her easy buttons.
Ann Voskamp calls it "The Broken Way".  The way that chooses to wade into the deep and face the pain.  Sit with it and learn from it.
Here's what we can learn about thriving in Option B, embracing brokenness.
Pain is a natural part of life
We explored this more deeply in Episode 065.
What I found and what these 3 women said too, we aren't guaranteed any moment beyond the one we're in.  And rather than letting that scare us, it should motivate us to embrace each moment and dare to be who we were created to be.
One of the key blessings of Option B?  Deep and profound gratitude.
Embrace pain
This is the opposite of what we want to do.  We want to run, fight, or freeze, similar to a stress response.  But when we run, it follows us.  When we fight, it fights back.  When we freeze, we live as a victim.
How can you embrace pain?  Breathe into it and notice how it makes you feel.  Then direct your primary focus somewhere else.  This helps with physical and emotional pain.
Seek growth and redemption
Pain is what causes our greatest growth…if we let it.  It's called post-traumatic growth.  Exercising those muscles during less painful times can help with pre-traumatic growth.
The letter to Philippians in the Bible says, "I want to know Christ and the power of his resurrection and the fellowship of his sufferings…"
Glennon said, "What if my anger, my fear, my loneliness were never mistakes, but invitations? "
Sheryl learned an important lesson; to make it okay to talk about tragedy.
Glennon learned that what looks easy – isn't.  And what looks painful is the way to healing.
Ann learned that broken is beautiful.  Brokenness leads to abundance.
I've learned that most stuff isn't the biggest deal.  Even when it seems like it.  I'm stronger than I knew.
Want post-traumatic growth?  Then
See pain as a natural part of life.
Embrace the pain.
Seek growth and redemption.
Don't press the Easy button.  Sit with the pain.  Ask others to sit with you.  And return the favor when they need it.  A shared burden is much easier to bear.  You can learn and grow together.
If you're experiencing something big right now, know you're not alone.  God loves you and is holding out his hands to support you through.  You can email me too.  kathleen@kathleenannthompson.com.
If you're not in a crisis right now, then practice with the smaller stuff.  Slights, mistakes, a broken finger, whatever.  Practice pre-traumatic growth so you're better prepared for the big one.
My reader/listener survey is open thru June 22nd.  Please do me the kindness of taking it.  Getting to know you will help me serve you better.