Have you wondered what your purpose is?  Maybe even tried to find it?  And nothing seems like "it"?  Me too.  On today's episode we're talking about how to be okay with not knowing, and what to do while we're searching.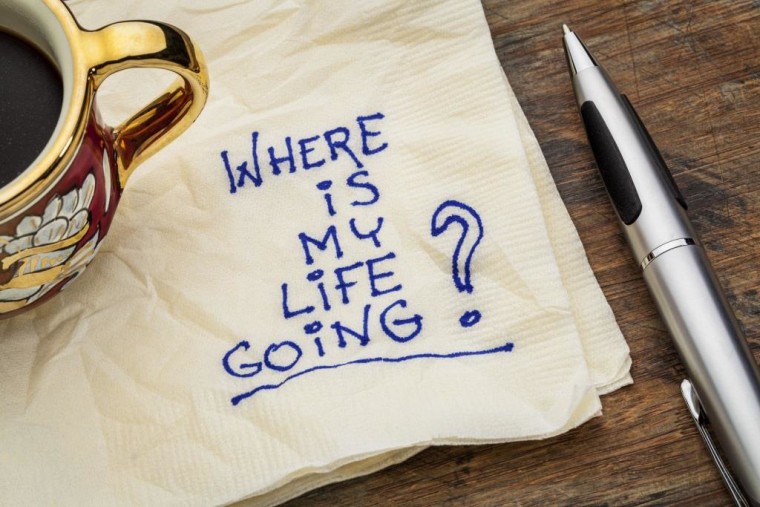 (c) AdobeStock Photo
Play Episode
Podcast: Play in new window | Download
| Subscribe in iTunes | Subscribe in Stitcher | Subscribe via RSS
On This Episode
Rhythm of Life – How Do I Get Rid of THAT?
Tune-up Tip – Muscle Testing Revisited
Feature Segment – Not Found Your Purpose?
Today's Quote
Deprived of meaningful work, men and women lose their reason for existence; they go stark, raving mad.  — Fydor Dostoyevsky
Rhythm of Life – How Do I Get Rid of THAT?
If you've listened to episodes 073 and 074, you've heard me talking about starting to clear out the mess that's been my back garden.  What I learned about bringing light and air to my plants – and my life.
Here's the latest update in the saga.  I went out to eradicate the prickers from around my weigela bushes.  Clipped, hacked, even sawed the biggest branches.  Then I couldn't dig out the stumps.  I even broke my favorite shovel!
It turns out there's stuff you can buy to eliminate the stumps.  It's called Stump and Vine Killer.  You brush it on the stump and watch it disintegrate.
I learned two lessons from this:
Don't break shovel trying to use it for something too big to handle.
It's better to solve specific problem with specific solution.
This is true in gardening…and it's true in life.
Tune-Up Tip – Muscle Testing Revisited
Way back in Episode 071 I told the story of how I tried self-muscle testing.  And it didn't work.
Today I needed a similar answer.  What was causing my cold-like symptoms?  I called my Naturopathic Doctor.  She suggested self-muscle testing.  I laughed, knowing how it had gone the last time around.
Listen to hear what happened next, and how you can try self-muscle testing yourself.  Hmmmm…..I wonder if it helps predict the weather?
Feature Segment – Not Found Your Purpose?
Have you ever been to a workshop where the leader asked, "What's your purpose?"  Did you freeze with dread?  If so, know how you feel.  I've felt that way before.  In fact, I feel that way right now.
I've followed all kinds of books and seminars.  Some tell you to write.  Others to ask friends and co-workers.  Still others tell you to pay attention to your experience.  See where life has taken you.  See patterns.
Others describe your zone of genius.  Super-powers.  And it goes on.  I even talked about this in Episode 034.  It's all helpful.
What if you do all that and don't really find anything?  That's where I'm at right now.  Maybe you are too.
I don't feel like a genius in any aspect of my life right now.  I don't see my purpose.
I've been working on this for years.  I asked family, friends and co-workers different times with different questions to see what others would tell me about who they think I am.  I appreciate their responses.  I appreciate that they think highly of me, my work, and our relationship.  But the things they said are character traits.  They don't really describe super powers.  Something unique to me.  It doesn't help me figure out my purpose in life – or my next step.
I looked at my 2017 Subscriber Survey, and saw that others had some of the same questions.  They wondered what they'd be great at.  If they had value.  Why it was taking so long to find their purpose.  And boy I could relate to that.  Maybe you can too.
And what about deeper questions – am I worthy of love?  Do I have anything to give?  Would anyone miss me if I was gone?
Part of me hates that I can't figure out my unique purpose.  I like to have a vision that's not quite so fuzzy.  I don't want others to dictate my future, as I've done in the past.
But with all soul-searching and experimenting done so far, I still don't have clear answer right now.  So I'm going to keep experimenting until I do.
If you're in similar position, encourage you to do the same.  Your circumstances may be different, but you may still have the same questions.  Let's do this together.  Here's what we can do while we're searching:
Take time to reflect.
Do stuff.
Weed stuff out.
Believe you're worth it.
Create community
Take time to reflect
Let's call this LIFE2.x.  Why?  Because maybe you're on your second life already.  Option B as Sheryl Sandberg called it.  But there isn't just one version of it.  Like software, maybe you'll have only a few major releases, and tons of smaller ones.  That's what the x is for.  An unknown number of small changes.  Tweaks.  Iterations.
DO NOT just end this podcast without taking action.  Do this – send me an email to kathleen@kathleenannthompson.com.  Put Life 2.x in the subject line.  Tell me what you're thinking about doing – or if you just know you want to do SOMETHING and have no idea what that might be.  Then tell me what one thing you're going to do about this in the next day.  I'll write back.  I'll pray for you.  Let's do this together.