Ice dams are threatening bridges and the surrounding land area in Connecticut.  Alternating warm and cold weather has caused ice to break apart and flow downstream, getting caught on bridge supports or at especially sharp bends. I saw one close up the other day.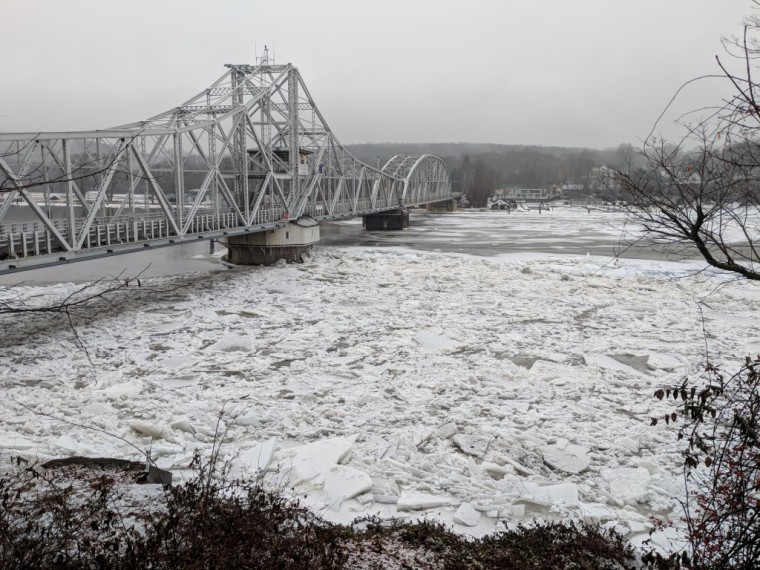 (c) Kathleen Thompson
I witnessed its menacing power.
It all seems so innocent.   The Connecticut River, meandering downstream from Canada to Long Island Sound.  Peaceful.  Bucolic.  In fact, a group of Impressionist painters gathered in the late 19th century to paint this river – showing the peace and serenity of the river.
And yet right now it's dangerous.
The constant freezing and thawing has caused huge chunks of ice to break off and float downstream.  The problem is that the river isn't straight.  And there are bridges in Hartford, Glastonbury, Middletown, and East Haddam.  The ice begins to build up around the support or bend until the river is impassible.  Not only that, but a quick refreeze cemented these huge ice bergs in place.  Some are as big as cars, and 16 inches thick.
Then what?  Flooding upstream.  Which freezes.  All kinds of inlets are flooded. The water has even spilled past its overflow inlets onto streets, in homes, and even a school.  And they're worried about what might happen downstream once it breaks free
The Coast Guard sent a cutter to try and break through the ice in East Haddam, but it was too thick.  They couldn't budge it at all.  They're going to go back with different tools and try again.  They have to get the water flowing again.  Otherwise, it will not only continue to flood upstream, but also threaten the bridge itself.
Now, unless you live in Connecticut, these ice dams aren't affecting you.  So maybe you wonder why you should care.  Here's the thing.  As I stood by the banks of the river looking at one of these ice dams, I realized this is what my life looks like sometimes.  Maybe yours does too.
A stuck emotion.  Dwelling on the past.  Rehearsing our flaws or faults.  Wishing life was somehow different than it is.  Numbing ourselves to pain.  Hiding from our true self.  Hiding from God.
Anything that prevents the free flow of positive energy running through our system becomes an ice dam.  I worked so hard to protect myself from a not-so-great culture that it created an ice dam in my body.  My upper chest and back are inflexible at this point.  The energy doesn't flow all the way through my spine.  I can feel it stop – or at least choke off to a large degree.
I saw it on the river, and I can feel it in my body. And I no more want an ice dam in my life than we want it on the river.
But here's the thing: I can't just will it away.  Nor could the Coast Guard could just send a small boat to cut through the ice.  It's going to take a different approach than what I've tried thus far. And it will take time.  How much time, I don't know.  But more than an instant.
It takes time and the right conditions to build an ice dam on the river.  It takes time and the right conditions to build one in your life too.  If you've got one forming, pay attention.  It's easier to deal with it before it's completely frozen.  If like me, yours is already frozen, take heart.  You can get the water flowing again.  It may take some time and creativity, and you have to keep working at it, but you can do it.  The water's there underneath the surface, just waiting for you to clear it.  The current will help you once you get it started.
I know my body is helping me, too.  It knows how to adjust itself.  Balance itself.  Once I make even the tiniest hole in the ice dam, my body's own energy will help me go further.  The dam will weaken and eventually be broken.
If you have an ice dam in your own life, why not share in the comments?  Putting words to it is the first step toward breaking the hold it has on you.  Pleas know we are cheering you on.  If you've successfully broken through an ice dam, please encourage us by sharing your story.  We'll send you a virtual standing ovation.
If you want to see more about this, here's a link to the Hartford Courant.