My family has a recipe for Irish Bread that we got from our neighbor, Anita.  She made it every St. Patrick's Day and gave it out to people she knew.  At some point she gave us the recipe so we could make it ourselves.  Our family loved the bread so much that we began making it for other occasions too.  This recipe is quite different from most of the Irish Bread you've probably had.  It is made with baking powder instead of soda, has no caraway seeds, and is sweet.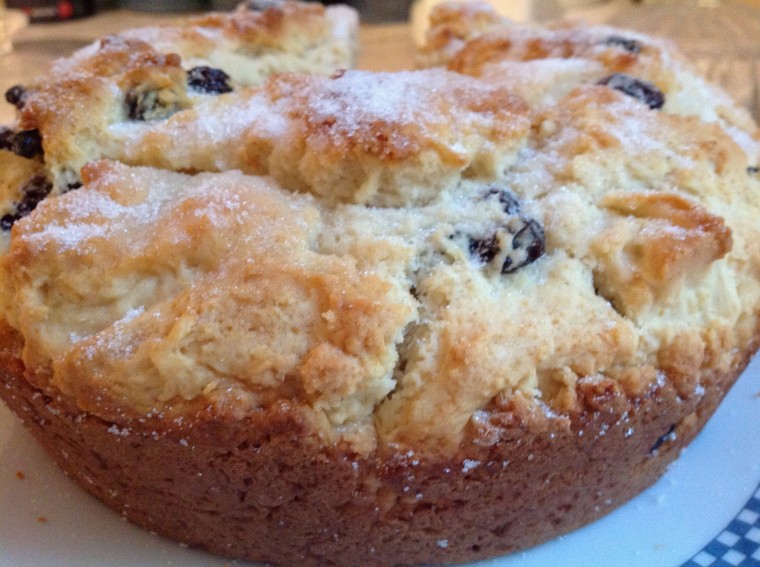 Photo by Ann Thompson
When I got married, I made the bread.  I continued the tradition of giving the bread away to friends and neighbors.  Eventually, they asked for the recipe.
What happened next was very interesting.  Almost to a person, they said that their bread did not taste as good as mine.  It wasn't as tender, either.  It was almost tough.  We talked about the ingredients they used.  We went through the recipe to make sure they had explicitly followed the instructions.  (You have to mix certain ingredients in a particular order to get the best results.)  We verified that they used the right pan, started with a high heat, and lowered it at the right time.  All checked out.
Finally I thought of one more thing.  "I mix the last ingredients in with my hands.  It's really slimy at the beginning because you've just added the milk.  But mixing with my hands makes all the difference." 
Most couldn't bring themselves to do that.  They didn't like the dough squishing through their fingers.  They didn't want to contaminate it.  They didn't want the mess on their hands.  And their bread never came out like mine.
I thought about that, and wondered why mixing with my hands made the bread come out so good.  Here's what I came up with:
My hands, and particularly my fingers, are very sensitive.  I can feel when the dough is thoroughly mixed.
It requires less mixing to achieve the same texture.  Thus, the bread is more tender.
The dough is not sensitive to heat from my hands.  In fact, the heat probably makes the ingredients blend better.
When mixing by hand, love is mixed into the food.
In the days of packaged food and need for speed, we often lose touch with what we eat.  In so doing, we lose a part of ourselves as well.
Mixing or kneading dough, peeling, slicing and chopping vegetables, and anything else that we do by hand brings back the pure joy of food – and the celebration that it is meant to be.
When we cook with others, it magnifies the joy still more.
Mix with your hands.  Bask in the moment.  Let the dough stick to your fingers.  Celebrate.  Share.  Food tastes so much better when made with loving hands.
Question:  Do you have a special memory of food made with love by someone in your family?  Please share it by clicking here to leave a comment.