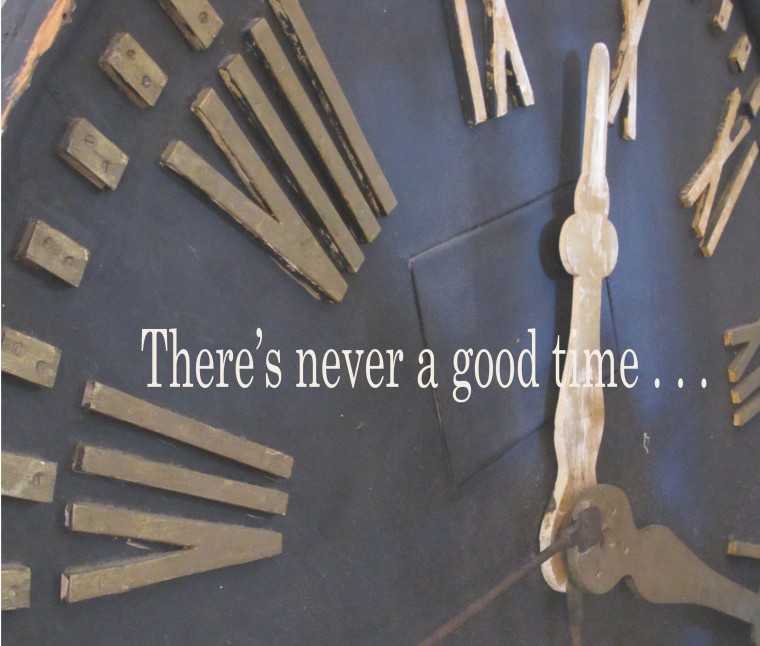 To have a child
To take that trip to Alaska
To climb a mountain
To write that novel
To learn to play the piano
To do something that matters
To be generous
To start your new project
To pursue your dream
In your 20s, you're not established enough.  You have debt, no reputation, and no connections.  That was true for me.  I had bills to pay, and couldn't figure out how to sell my songs, so I got a job and quit writing music.
In your 30s, perhaps you have a family.  A hectic schedule.  Too much on your plate.  A house and a mortgage.  In my case I was supporting my husband through college and we were paying child support and a mortgage.
In your 40s, kids' college is on the horizon.  You may have a bigger mortgage.  Your career takes more of your time as you rise in the organization.  In my 40s, I was still paying for my husband's college education (PhD), and was spending more time at work.
In your 50s, retirement looms.  Your children may be getting married or your parents are aging.  They need your help and support.  In my 50s, I am widowed.  I have only my own income.  And I see my retirement income versus anticipated expenses and cringe.
In your 60s, you have less energy.  And you've lived too long to change now.  Though I'm not there yet, I'm hearing it from people whom I know.  A few continue to explore and challenge themselves, but it's more difficult.
There's never a good time.
No one starts off in life planning to work too many hours, or stifling who they are to fit in with others' expectations.  It just happens as we wait for the right time.  A time when it will be easy. 
As I look at my life, I see that I have done just that.  Waited.  Until my travel schedule died down.  Until my husband finished school.  Until we had more money in the bank.  Until our house was paid off.  Until we retired.  Some of those milestones came and went, and I still waited.  Some haven't happened yet and may never happen.  So what should I do now?  Wait?  Or should I go for it?
I've decided to pursue the life I want, even after all this time.  When it isn't a good time.  To go after the life I've been waiting to come to me.  To choose it, rather than letting circumstances set my agenda.  It won't look like it would have in my 20's, 30's or 40's.  It will look like now.  And that's okay.
You can do that too.  There's never a good time.  Do it anyway.
Do you know someone who has been waiting for "the right time" to do something that matters to them?  Share this post with them through social media or the e-mail button.
What would you if it WERE the right time?  Share in the comments.  If you know someone who has been deferring their dream for "the right time", please share this post with them by clicking one of the social media or e-mail buttons.