Strange weather has taught me a valuable lesson.  One I seem to need to learn over and over – a lot.  The week of New Year's it was cold.  VERY cold.  Maybe even record cold for that time of year.  We had the snowstorm (aka bomb cyclone) on January 4th, all while experiencing a deep freeze.  Southern New England got anywhere from 6-16 inches of snow, and it drifted all over the place.  It seemed like it would be cold forever.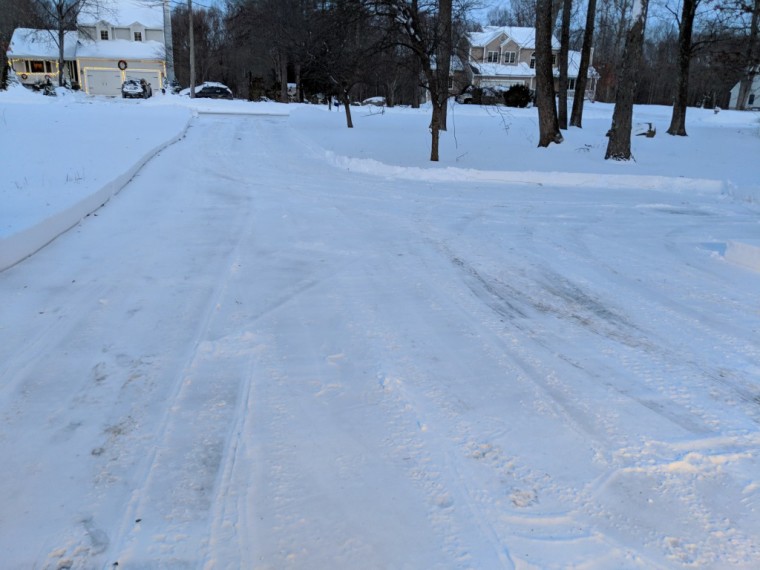 (c) Kathleen Thompson
Then suddenly it was warm.
Unnaturally warm, in fact.  A few normal days and then boom!  59 degrees and torrential rain.  All the snow melted except for tiny mounds where large piles had been.
And I thought to myself, "This too shall pass."  I couldn't imagine that the snow could disappear so quickly.  That I'd be going out without gloves. Without my long underwear underneath my clothes.  Without my winter hat.  And yet I was.  Wearing only a warm raincoat, dodging raindrops instead of blinding snow.
As I made my way through the rain, I thought, "It's winter.  There's no way this is going to last."  And it didn't.  A few days later, and we're back to the cold.  Single digits at night.  All that water is frozen solid already after only one day.  The warmth too did pass.
It's funny, isn't it?  When we're in the middle of something it feels like it's been forever.  We have a vague memory that it wasn't, but we can't feel that any more.  All we can feel is now.  It feels like it's been forever and that it will be forever.
It's important at a time like that to remember, "This too shall pass."  It sounds cliché, but there's so much truth to that.  (Oh by the way, don't be the one who says that to your friend when they just shared bad news with you.  It won't go over well.  It's best if we say it to ourselves.)  Pretty much everything will end at some point.
The question is – how will we respond to the situation?  Will we believe it will pass and live in that place of trust?  Or will we resist it every step of the way, which actually does harm only to ourselves?  Will we find the beauty in the day in the midst of the turmoil, or will we curse the day and see only the problem?
The choice is yours.  And mine.
While it's cold, I'm wearing long underwear.  Gloves.  The warmest coat I have.  Why?  So I can go out and still enjoy my life.  I'm not skipping down the road while breathing icicles.  But there are a lot of things I can do whether it's cold or not.  And guess what?  By doing that I'll notice the problem less – see it in the perspective of the whole.
I'm choosing to do that with the rest of my life too.  Tomorrow I'm having surgery on my gums.  I'm a little nervous about it.  Was avoiding even thinking about it, which simply meant my subconscious mind was worrying instead.  And then I decided to put on my gloves, so to speak.  I looked with my friend Ruth at websites to help me figure out food.  I have some enjoyable books to read.  I've chosen to pay attention to it enough to take care of myself and listen to what my body needs.  Yet not focus on it to the point where I can't see or hear anyone or anything else.  I've chosen to put it in perspective.
This too shall pass.  Whatever it is.  What do you want to do in the meantime?  The choice is yours.
Have you had an experience that seemed as though it would go on forever?  And then it didn't?  How did you feel?  Did you do anything about it, or ride it out?  Share in the comments.