This week the National Speaker's Association announced a new brand for their organization called "Platform". That word sounds appropriate for a speaker's organization, and we can all understand why the acronym for the NSA isn't exactly held in high regard right now. However, there's just one problem with this new brand. It's uncannily close to Michael Hyatt's.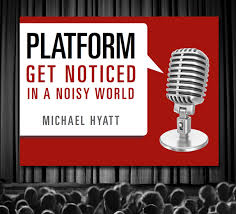 Mike Kim wrote a blog post showing photographs of the two brands side by side, and there was no getting away from the fact that the NSA branding looked very close to Michael Hyatt's.
Now I'm no marketing or branding expert, nor am I an attorney.  And I don't know that many of you are concerned with an organization that has no bearing on your everyday lives. But what does matter to us all is INTEGRITY.
You see the NSA is still deciding how to respond. They have invested two years into developing this brand, and I'm sure it was expensive. They may be weighing the cost of rebranding versus the cost of damage control. But that isn't really the question. The real question is – what is right?
Henry Cloud, in his book Integrity, talks about character as "the ability to meet the demands of reality". Dr. Cloud indicates that our character leaves a wake behind us that tells a lot about the boat itself.
In his book, Dr. Cloud cites the example of Johnson & Johnson during the 1982 Tylenol crisis. Some bottles of Tylenol were tampered with by individuals and put back on pharmacy shelves. Seven people died from the cyanide added to the tablets. At the time, says Dr. Cloud, Tylenol represented a huge share of Johnson & Johnson's profits. This crisis could have dealt a huge blow to the company.
They could have rationalized the situation, decided that it wasn't their fault, and kept Tylenol on the shelves. But they did not. The company determined that protecting their customers was the highest priority. They pulled every bottle of Tylenol from the shelves in Chicago first, and then throughout the United States.
Henry Cloud states that this decision stemmed from their integrity, and not from the cost-benefit analysis of the situation. Their guiding principle was to save customers, rather than save themselves. And in the end, their move was a big win. They built trust with the public, who remained loyal. They were able to rebound their sales and not only recover from the situation, but thrive.
What can we learn from the Tylenol crisis and the current situation with the NSA?
When difficulties arise,

our character shows

. How we respond right from the beginning determines the wake we will have.
When you do the right thing,

there is a cost.

We do not always make up the loss, particularly in the short run. But we can live with ourselves. And in the end, that is more important than short-term financial gain.
Living with integrity requires

denying ourselves

for the sake of the greater good. Doing so infuses our lives with a deep sense of meaning.
Our

first response is what people will remember

. Taking a hit in order to do what is right pays huge dividends in building or restoring trust. Dragging our feet breeds suspicion and almost always backfires.
Acting with integrity helps us

sleep better

at night. We really do want to do what is right. When we do not, there is a restlessness in our spirits that is not easily quieted.
What kind of character are you building? How have you responded in a difficult situation? To share with the community, click here to leave a comment.