For years I had a vision of what my front yard could look like. The house was newly-built, and had no landscaping other than a half-hearted attempt to grow a lawn.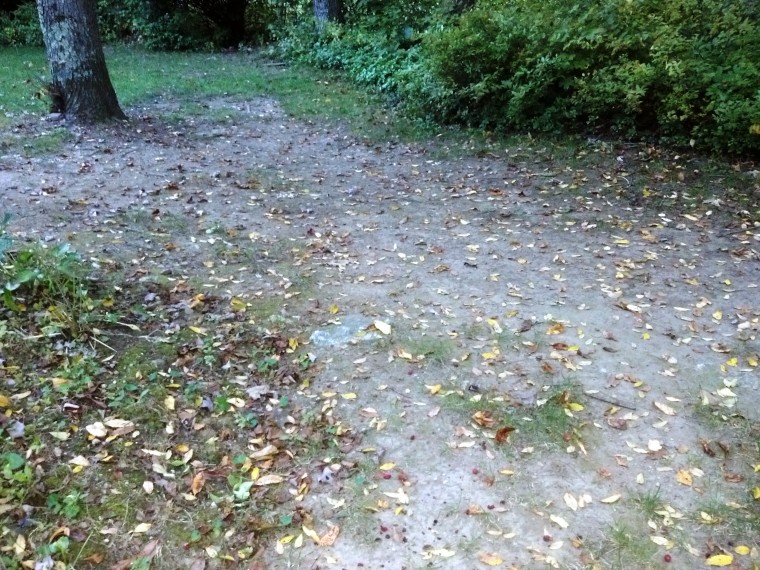 (c) Kathleen Thompson
Because we had little money after we bought the house, I had to do the work myself. 
I knew I wanted plants in front of the house, and didn't want a straight row of bushes lined up like soldiers. I also had to be careful of deer, as they are prolific and eat a lot of my favorite plants.
Eventually I decided on a plan, and planted. I didn't like it, so I moved things around. Then I realized that part of the problem was that there was a huge space between all the plants. They looked so tiny and sparse up against the house. Planting them the proper distance apart to make room for growth made them look silly for a very long time. It was difficult to be patient.
Some things died and were replaced – sometimes with the same thing, and sometimes with something different. I went for hardier varieties, and plants that required less maintenance.
Then there was the pruning. The biggest project was the Kousa dogwood. It is a beautiful specimen tree. It displays white flowers in late June – early July and red berries in the fall that feed the birds. The leaves turn red, which creates beautiful autumn color. The only problem with this tree is that it has a growth habit similar to a bush, yet grows tall enough to look like a tree.
I decided to prune it like a tree, with the leaves concentrated on branches up high and the branches spread out full. I had never done this before, so it was a bit of an experiment. I had a vision of how I wanted the tree to look and nothing more.
First I cut the branches going into the middle so they wouldn't cross over each other. Next I cut the low ones to encourage the high ones to grow. Last, I trimmed it into a pleasing shape.
It took many years, but my vision finally become reality. Not without problems and adjustments along the way, but a reality nonetheless. The bushes aren't being eaten. They have filled in. There is almost always color. There is balance.
The best is that dogwood tree. It does look like a small tree. It fits in the space. It has a lovely shape, and gets tons of flowers. It makes me smile every time I look at it.
Seven lessons from my landscaping experience
1. Have a vision or goal in mind
2. Experiment and adjust. Sometimes it takes more than one try to realize the vision
3. Plant with the long view. It takes time for plants to reach maturity and fill in. It also takes time for our plans to come to fruition.
4. Enjoy the process. Don't just look forward to the flowers. Enjoy the process of trimming and transplanting.
5. Prune out what is not contributing to the design
6. Be prepared for winter kill. Not everything makes it. Either dig it out or nurture back to health. Know when it is no longer viable. Don't spend time nurturing what is clearly dead.
7. Enjoy the fruit of your labors. Sit under the tree. Walk around and enjoy the garden from all angles.
What life lessons have you learned from gardening? Share by clicking here.